There are two types of capacitors, the Polarized and the Non-polarized. The Polarized is indicated with ''+'' positive and ''-'' negative, meaning this cannot be change into its mounting position from a certain connection of a circuit polarity, The ''+'' positive is for the voltage supply line B+ only and the '' - '' negative is for the grounding lines. The capacitor will blown up if putting it into a non desired polarity position.
Non-polarized capacitor is a non-polar or without polarity meaning its position can be change without damaging it.
In Schematic Diagram it is stated as letter ''C'' stands for Capacitance then a mounting code and Capacitance value.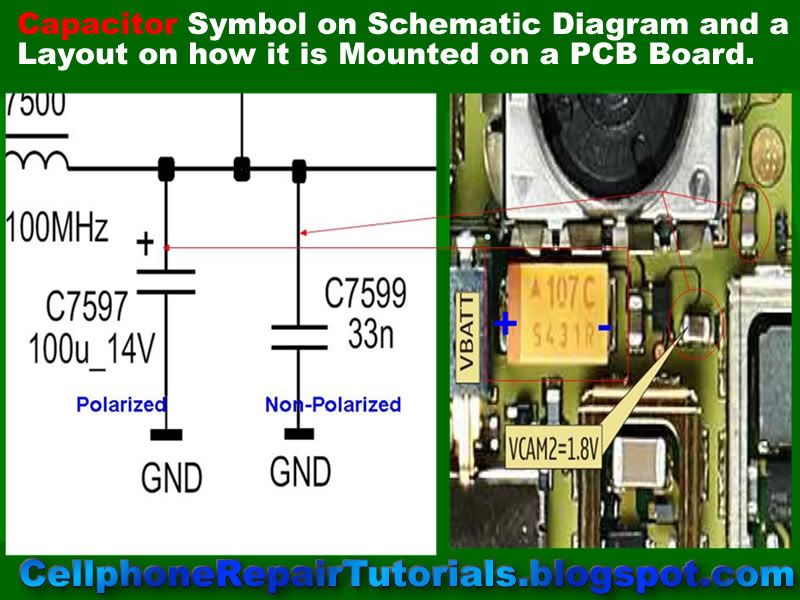 The Polarized indicated with desired maximum voltage value. like for example
C7597 1000mF_

14V

,
the ''14V'' is the desired maximum voltage for that said capacitor.
While the Non-polarized labeled without desired voltage.
example: C2567 22pF
If You Have To Flash Your Smartphone :-
Some Common Problems And Their Solutions Of Phone :-
My Phone flash file system corrupted or phone dead problem ,How To Solve Camera , Display , touch , keypad etc not working
My Phone Processing very slow and hang problem Solved , Some application not working showing error in my Phone
Booting windows or mobile phone networks problem, What is The Solution for phone Restart automatically
Phone Sim Card Not Working Issue
--
Processing very slow and hang problem Camera , Display , touch , keypad etc not working When opening camera suddenly an error occurred and camera stopped working.
some application is stopped working. flash file system corrupted or phone dead problem ,Virus problem
, Booting windows or mobile phone networks problem, phone Restart automatically, Sim Card Not Working Issue and many more problems
Volcano Box Latest Setup
,
Z3x Box Latest Setup
Ufs Hwk Box Latest Setup
,
Infinity Best Latest Setup
Atf Box Latest Setup
,
Miracle Box Latest Setup